Happy Employee Appreciation Day!
March 4th is Employee Appreciation Day, a day set aside to show your employees how much you appreciate them. Many businesses give their employees a gift or take them out to dinner, but there are other ways to show employee appreciation that can be just as effective. One way is to provide employee chair massages. In this blog post, we will discuss the benefits of employee chair massages and how you can show your employees that you appreciate them on Employee Appreciation Day!
Three Ways Your Workplace Can Benefit from Chair Massage
Did you know that employee chair massages can improve work quality? Chair massages are a great way to reduce stress, and when employees are less stressed, they tend to be more productive. In fact, one study found that employee productivity increased by 12% after a 20-minute chair massage. Additionally, employee chair massages have been shown to improve focus and creativity.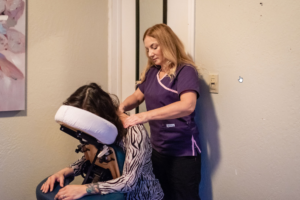 Another benefit of employee seated massages is that they can help prevent burnout. When employees feel overworked or overwhelmed, they may start to experience physical and emotional symptoms of burnout. Massage therapy has been shown to help relieve some of these symptoms.
Finally, employee chair massages are a great way to show your employees that you appreciate them. Contact Married to Massage via email at MarriedToMassage@gmail.com to reserve your special, workplace massage experience. Your employees will thank you! At least a months advanced notice is required.
You can secure a chair massage event directly online!  For as little as $250 (prices subject to change), your employees can experience stress relief from an experienced massage therapist at your office!  Click Here to book your office party today but it is suggested to plan to book a month in advance.  The sooner the better.  The seated massage service is booked by the hour.  You can decide how to divide up the time with employees.  For example: some employers as the each client receives 10 mintes and others 30.